About Dowdal Cabinets
Proudly Serving North Bay and Surrounding Areas
Since 1958
Proudly celebrating over 60 years in operation, Dowdal Cabinets is a professional Cabinet Design and Manufacturing firm specializing in creating dream kitchens, baths and custom cabinetry. All spaces are specifically tailored to the individual needs of the client.
Our beautiful 2,500-square-foot showroom and office facility offers clients plenty of browsing room to familiarize themselves with the countless design options, products and finishes available. Located at 248 Birch's Road in North Bay, Ontario we have a state-of-the-art 4,500-square-foot production facility where our cabinetry is locally manufactured. Since your cabinets are manufactured locally, we are able to create custom cabinetry at factory pricing! Our on-site finishing department enhances the customization of your cabinets allowing you to modify your stain and paint choices, ensuring a cohesive design.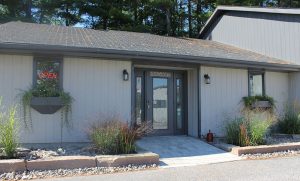 Simply, it is our experience and skilled staff that allow us to offer exemplary products and exceptional service. Our professional design team can help bring your dream kitchen to life – from early design concepts straight to manufacturing, finishing and installation. Maybe you're not exactly sure what your dream space should look like? A helpful design tip is to simply take note of what you need, like and what you envision when picturing the perfect space. Bring us your sketches, magazine clippings, pictures, Houzz or Pinterest ideas and our staff can assist you in creating that dream space. The planning stage is an exciting one, and since your cabinets are designed on computer-assisted technology, you have the ability to see your proposed designs in three dimensional renderings.
Not ready for a full renovation but your space is in serious need of an update? At a fraction of the price, we also offer full cabinet refacing with the ability to choose new doors and finishes, while using your existing cabinetry to create an entirely fresh look.
Our Process
Free Design Consultations
Here at Dowdal Cabinets, we begin our process with FREE design consultations!
If you are building a new home it's an extremely exciting process and there are a lot of details to consider. It is encouraged to bring in your architectural floor plans early in the planning stage so our experienced staff can review the details with you to ensure the best layout to suite your style, needs and function. The consultation would allow time for optimum window, plumbing and electrical placements to achieve the desired look of your dream kitchen or vanity and custom cabinetry.
When renovating, we prefer to meet with you in your home to take measurements and discuss all options available to improve both the design and function of your existing space. We will discuss what works, what does not and what you hope to achieve in your new layout.
3D Renderings and Approvals
Keeping all information discussed in mind, our team will provide you with a proposed design in a three dimensional rendering for your consideration. Modifications are made as needed until there is final approval of the design. Once you are happy with the layout, you will receive a free quote based on the proposed design, accessories and finishes discussed.
Finalizing Finishes and Styles
When finalizing finishes, it is recommended to have all flooring and tile samples with you at our design showroom and we will assist you in choosing the perfect cabinet colour, door style and counter tops to bring it all together.
Once all is finalized your project is ready for processing, manufacturing and installation!